People magazine reports that, "Amal Alamuddin 'was looking for Mr. Perfect' when she met George Clooney" according to close friend, Jae Kim, during her wedding ceremony speech...It seems George may have stolen the heart of
Mrs. Perfect
as well....The previously-elusive-bachelor has been quoted as saying he was 'marrying up'...While I certainly love Mr. Clooney as much as the next gal, I certainly agree!
Clearly,
The Business Woman
bloggers feel this way as they headlined their own version of this story as follows:
"Internationally Acclaimed Barrister Amal Alamuddin Marries an Actor."
LOVE. IT.
Before we admire her killer style, let's check off some of her accomplishments...
Oxford University and NYU School of Law graduate and recipient of the Exhibitioner, Shrigley and Jack J. Katz Memorial Awards
Student Law Clerk for now-Supreme Court justice Sonia Sotomayor, who was then a judge at the U.S. Court of Appeals for the Second Circuit
Successful, well-respected barrister and litigation attorney specializing in international law, human rights, criminal law and extradition
Appointed to numerous UN commissions and an advisor to the King of Bahrain and to former UN Secretary-General Kofi Annan on Syria
Published author and co-editor of "The Law and Practice of the Special Tribunal for Lebanon"
Tri-lingual in English, French, and Arabic
OK, OK, the list can likely go on, and on...We get it. She is smart. She is accomplished. She is stunningly beautiful. In fact, I wish Disney would make her their next heroine so little girls would have a worthy role-model (as opposed to their typical beautiful-yet-vapid princess) Yet, on a more light-hearted note, she is also an intriguing and versatile fashionista!
So, lets get to the fun stuff. Her stunning style, starting with her wedding weekend in Venice, Italy...
Which of these ensembles is your favorite?

From left to right:
(a.) Welcoming her wedding guests in Dolce & Gabbana
(b.) Rehearsal dinner in Alexander McQueen
(c.) Post-wedding brunch in Giambattista Valli
(d.) Civil ceremony in Stella McCartney + J Smith Esquire hat
(e.) All of the above
My HANDS DOWN FAVORITE is this two-piece bespoke cream top and trousers with an off-white box clutch by Stella McCartney. Tailored perfection! Alamuddin is stunning and chic in this high contrast of dark and light, its fluid, clean-lined silhouette, and romantic-yet-sensible vibe.
The coral and violet beaded blossom detail on the cream macrame lace of this Giambattista Valli Haute Coutrue 'minidress' is feminine and playful while providing interesting color and texture...I am typically NOT a fan of the asymmetrical hemlines, but with legs like hers, anything goes! If you've got 'em, flaunt 'em, right?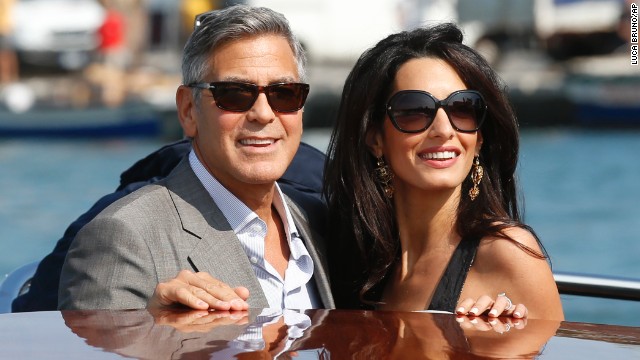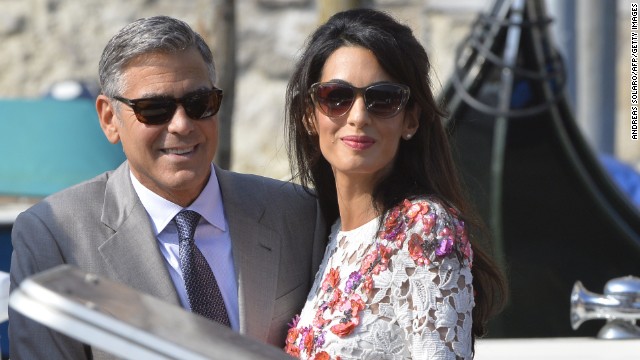 Love this modern-yet-traditional black and white striped Dolce & Gabbana sundress....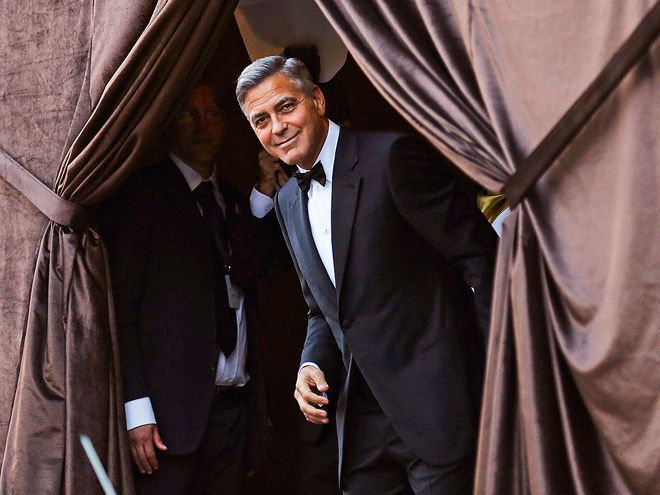 Let's face it, he is pretty adorable, too
In her post-wedding Gatsby-style Oscar de la Renta dress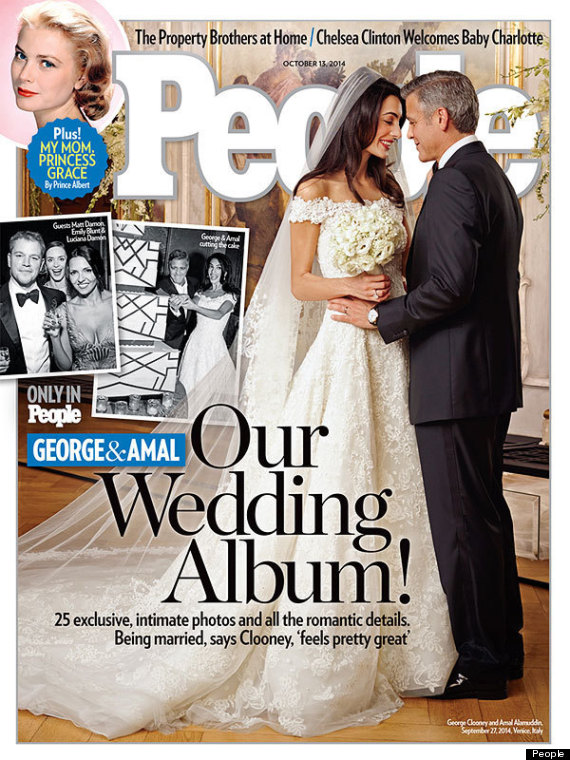 In Oscar de la Renta French Chantilly lace gown,
embroidered with diamante and pearls...
For good measure, I had to include the swank, stunningly beautiful wedding venue, the Aman Canal Grande palace in Venice, Italy
Main reception area with giant Murando chandelier,
gilded ceiling and mural facades,
windows overlooking the canal...
Love the juxtaposition of the lavish, ornate, old-world backdrop
against the clean-lined, modern decor elements
I cannot even imagine the level of architectural detail
and exquisite interiors throughout this venue...
(Apparently, my invite was lost in the mail)
Back to Alamuddin...more photos of her versatile, unique style...
She rocks everything from the floral and feminine...
...to the structured professional...
...to the playful, ladylike...
...to the feminine and fun...
...to the relaxed, tom-boy chic...
...to the Eat, Pray, Love-inspired?...
...to the sophisticated neutrality-rules...
...to the ladies-who-lunch...
...to the Lake Como vacation goddess?
...to the NYC-meets-Paris urbanite
Congrats, George. She is smart, successful, beautiful (and hopefully as sweet as she looks) ....You found a keeper!