The following photo appeared in my Instagram feed yesterday, and I instantly fell in love! Artist Elaine Burge shared this photo of her daughter's nursery, as designed by Whitney Interiors and beautifully captured by Holly Knight Photography. The wallpaper mural,
Great Meadow
is by Nathalie Lete for Anthropologie. According to Elaine, they selected the wallpaper first and designed the rest of the room around it. It reminds me of a large-scale version of a beautiful china pattern, particularly with all of the whimsical fruit, flowers, and insects. Specifically, the gorgeous hand-painted designs by Anna Weatherley come to mind. I fell hard for these designs when I was registering for my wedding china over ten years ago, but given the lofty price tag, I gave and good oooh-and-ahhhh and moved on. Yet, a couple years ago, I stumbled on her offerings via Rue La La at a discounted price, so I splurged on a few pieces. They are truly works of art. Perhaps I was influenced by my Mother's china,
Italian Fruit
by Richard Ginori, similarly with fruit and flowers. I love using beautiful china for special occasions, family holiday dinners, or entertaining with friends. There is just something about a pretty table that makes a get together feel more festive and special. (Yet, I did learn the hard way NOT to use for a backyard dinner party...Let's just say too much wine and too little sunlight ended up in broken salad plates that were rather expensive to replace, yikes!!) But, I digress!
I just love the idea of using this for a little girl's room. It is so colorful, lively, and fun! It would feel like waking up in a garden every morning! I also love the remaining elements in this room. The clean lines are repeated in the traditional rocker and wooden crib. The crystal chandelier gives the room some added fancy. And I am always a lover of geometric patterned rugs. The colors, patterns, and textures in this room just work so well together! We have yet to do some structural renovations to make a large room over our garage into two bedrooms, but once we do, I am seriously considering something like this for my daughter.
Artist Elaine Burge's daughter's nursery designed with Nathalie Lete for Anthropologie wall paper mural
Anna Weatherley Spring in Budapest
Anna Weatherley, Ivy Garland
Anna Weatherley, Ivy Garland
Anna Weatherley, Ivy Garland
Anna Weatherley Exotic Butterflies
Anna Weatherley Midsummer (Dinner Plate)
Anna Weatherley Midsummer (Salad Plate)
Richard Ginori Italian Fruit (my Mother's pattern)
Some additional inspiration photos of whimsical wallpapers....The possibilities are endless!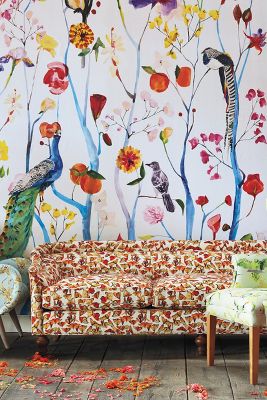 Anthropologie, Garden Chinoiserie Mural by Voutsa
Mama Petula in Paris
Anewall's Cactus Mural Wall Covering
From the Pretty Blog (source unknown)
from MyDomaine, Source unknown
Murals Wallpaper, Shaded Blue