Top 10 FAV looks of the evening:
Julianne Moore was radiant in this Givenchy Couture sparkle-meets-feathers
(textural transition is flawless) gown...just gorgeous!
Emma Stone looked so adorable and chic in this Lanvin strapless jumpsuit...
the dramatic floor-length bow in the back gave the
otherwise
masculine look a feminine twist...also loved her darling bob hairstyle..
Reese Witherspoon was literally glowing in this Calvin Klein
strapless silver beaded gown...I also love her natural, pretty hair
This photo doesn't do justice - Emily Blunt looked amazing in this fun
Greek-Goddess-esque Michael Kors creation...loved her braids and turquoise jewelry as well...
Lupita Nyong'o knocks yet another one out of the park in this
Giambattista Valli textural confection...The color and dress details are gorgeous on her! And, I love that she is always a risk taker in something unique!
Although I am typically not a big fan of the valence-like shape of this trend in the bodice,
Jenna Dewan-Tatum wowed in this sunny yellow Carolina Herrera gown
Another photo doesn't do justice - Anna Feris looked so beautiful
in this blush beaded column gown by Reem Acra
Jennifer Aniston looked radiant in this Saint Laurent
sequin halter gown and loved her fun chandelier earrings.
Love the subtle Aztek vibe of Ellie Kemper 's beaded column Naeem Khan gown
Greer Grammer, "Miss Golden Globe" was stunning in this Lorena Sarbu blush color beaded masterpiece
15 Runner-ups...(Also Loved)
So much about Sienna Miller's Miu Miu gown I loved, from the vintage vibe
to the luxe satin fabric and intricate beadwork, but something about
the
structure needed a little tweaking. Nevertheless, she looked adorable
and loved her cute bob hairstyle.
LOVED this delicate, red beaded Armani Prive dress on Allison Williams ,
but did not love the (lacquered?) severe hair on her...
Viola Davis is gorgeous in this red sequin-embellished strapless Donna Karan Atelier gown
Loved the silver metallic gown on Dakota Johnson, very youthful, modern, and chic
Love Catherine Zeta-Jones very pretty in this ruby red gown,
but did not love her slicked back, severe hair
Quvenzhane Wallis looked darling in this age-appropriate Giorgio Armani dress
Fabulous deep red wine color on Christine Baranski in this sophisticated and sleek Zac Posen gown
Heidi Klum looks good in anything, of course... she looked glamorous as ever in this tomato red Versace gown...
I suspect Jennifer Lopez will make many 'best-dressed' lists in this intricate, flowing, beaded Zuhair Murad statement of a dress...YET, call me old fashioned, I wish the designer had picked either the deep V or slit, but not both...the two focal points compete with one another, in my opinion!
Helen Mirren - How can you not love her in this stunning Dolce & Gabbana tomato red gown. Love the silhouette on her!
Salma Hayek looks radiant in this Alexander McQueen brocade confection - yet I don't love the belt...perhaps something less contrasting.
Kate Beckinsale - was glowing in this Elie Saab gown...
Anna Kendrick looked feminine and sweet in this beaded Monique Lhuillier gown
Gina Rodriquez looked very chic in this sleek Badgley Mischka gown...loved the intricate geometric detail in the bottom....
Julia Louis-Dreyfus never seems to age - beautiful in this Narcisco Rodriguez one-shoulder gown...
Chrissy Teigen looked radiant in this geometric Deco Zuhair Murad gown...
These Were Just So-So For Me...
I hate to say it, but I didn't love Amal Clooney's look...her hair was a bit messy and although I love the concept of the white gloves, the baggy fit seemed to emphasize her uber-thin figure in a not-so-flattering way...but she is so stunning and accomplished, how can you not love this woman!
This deep violet color of this Marchesa gown was gorgeous on Katie Holmes,
but I did not love the severe/stiff long pony tail on her...
Diane Kruger - She always looks gorgeous, but something was a bit off...Love the simplicity of this Emilia Wickstead gown...perhaps the too-sleek hair...
Loved the navy color of Katherine Heigl's Zac Posen gown, but somehow her messy hair threw off the whole look for me
This soft lavender color of Amy Adams' Versace gown was stunning on her, but the drapery of both her hair and gown distracted one another...perhaps her hair up would have been better
Loved the cheerful bold yellow in Naomi Watts' Gucci gown, but didn't love the belt detail...
seemed to conflict with the statement choker....
I love the adorable and quirky Maggie Gyllenhaal (and her sweet acceptance speech),
but the (mauve) color of her Miu Miu own seemed a bit dowdy on her...
Taylor Schilling was beautiful in this red Ferragamo, but the criss-cross neckline looked a bit stiff and uncomfortable...
Julianna Margulies was very pretty in this red brocade gown, but I've seen better on her...
Sorry, But These 10 Missed the Mark For Me...
(Of course, who am I to critique these incredibly talented and beautiful women...I am a big believer in 'to each his own' in fashion...but sometimes, the fit, fabric, silhouette, or color just is not flattering...these celebs could have chosen better, in my humble opinion!!)
Claire Danes' Valentino gown reminded me of a very old upholstered piece of furniture and/or drapery....perhaps with a better fitting top this could have worked?
Jessica Chastain (again I am not loving the severe, slick hair)...this bronze color was pretty on her, but the style of her Atelier Versace was too va-va-voom/cheesy for my liking...
Kate Hudson's Versace was over-the-top revealing with the extreme v-neck and cut-outs...I think (similar to JLo) this would be better with either/or, but not both...
Kerry Washington's pink-and-purple Mary Katrantzou gown looked better suited for my 5 year old daughter on Halloween...sorry, but this did not work for me. She usually nails it on the red carpet!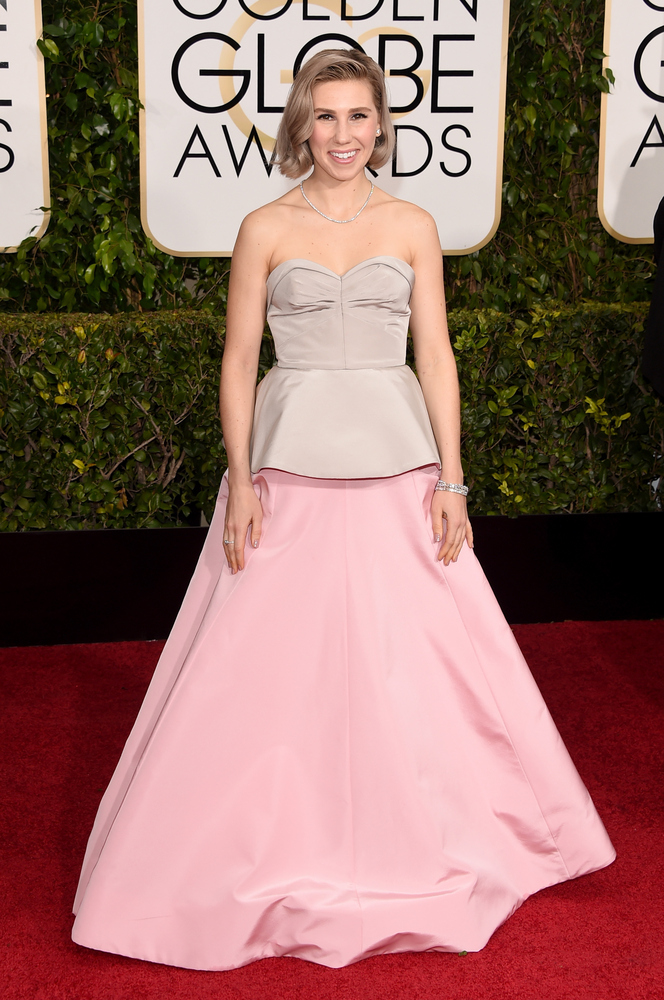 I'm all for color-blocking, but this does not work at all for Zosia Mamet...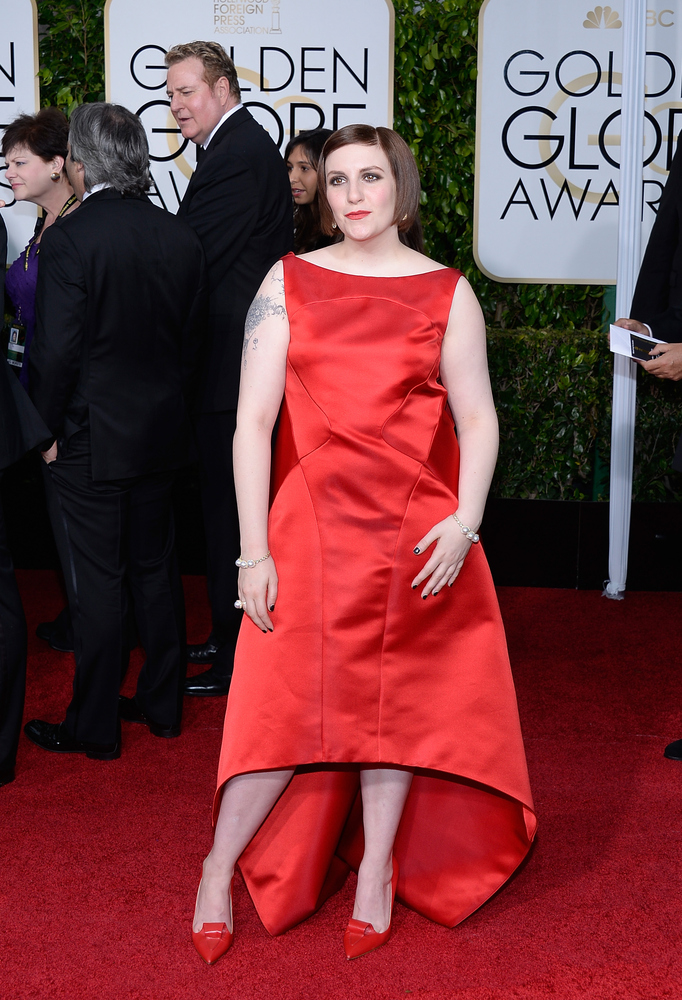 This is just a reminder that I am not a fan of the assymetrical hemline...and the boatneck line and ill-fitting bodice are very unflattering on Lena Dunham..
Seriously, how did Rosamund Pike make it all the way to the Red Carpet without a friend, family-member, stylist, designer tackling her to the ground?! This Vera Wang gown was so ill-fitting and unflattering on her, such a bummer given her impossibly-rebounded-5-weeks-post-baby figure. It looked like a paper airplane hanging by a string. Perhaps it was convenient for nursing (more power to her), but this one severely missed the mark for me...
The odd bubble structure of this Antonio Berardi dress did not do adorable Tina Fey any favors...I have seen much better on her as well
Kristen Wiig looks like an 80's-prom-dress-gone-wrong....I don't get this one at all.
Too much going on with Keira Knightley's pilgrim-like Chanel gown...Initially, I loved the charming, ruffled top before I saw the rest of the gown...but it did not work with the insect-embellished pattern of the bodice...
What were your favorites?
Now, for my favorite moments of the evening...
1) Tina Fey and Amy Poehler were funny as ever hosting the 2015 Golden Globes... Tina Fey's Clooney joke was right on the mark, (and loved Amy Poehler's gown and fun necklace by the way!)
"

Alamuddin is a "human rights lawyer who worked on the Enron case, an adviser to Kofi Annan on Syria and was appointed to a three-person commission investigating rules of war violations in the Gaza strip," Fey said. "So tonight her

husband

is getting a lifetime achievement award."
2) Prince's surprise appearance as an announcer and the audience's reaction....
3) Downton Abbey's Joanne Froggatt's surprise win (and heartfelt acceptance speech) for Best Supporting Actress in a Series...Yay Downton Abbey! Love this show!
4) Loved Clooney's acceptance speech for the Cecil B. DeMille Lifetime Achievement Award
(Speaking about the fact that roughly 80% of the audience does not win their nominated award)
"For the record: If you are in this room, you've caught the brass ring," said Clooney. "You get to do what you've always dreamed to do and be celebrated for it, and that just... it ain't losing."
...and later in the speech, "I've had a pretty good year myself...Listen: It's a humbling thing when you find someone to love—even better when you've been waiting your whole life. And when your whole life is 53 years, Amal, whatever alchemy it is that brought us together, I couldn't be more proud to be your husband."
And, finally, with regard to the unity marches in Paris in the wake of the Charlie Hebdo shooting...

"And one last thing: To reiterate what we've all been talking about, today was an extraordinary day....There were millions of people who marched not just in Paris, but around the world. And they were Christians and Jews and Muslims. They were leaders of countries all over the world. And they didn't march in protest; they marched in support of the idea that we will not walk in fear. We won't do it. So,

Je Suis Charlie

. Thank you."