Huh? Was that really it?! One of the most fun annual red carpets to review and I had to almost force myself to put this blog post together...because, well, its always fun to dish about fashion.
Let's just say I was completely underwhelmed this year. There are always the hits and misses, but this year, there were WAY MORE misses than hits!? Some of the perennial-best-dressed (I'm talking to you, Blake Lively!) even missed the mark.
So, here goes my few favorites...
As a nod to the Hillary Pantsuit, Felicity Huffman rocked this Georges Chakra jumpsuit...
It was modern, youthful, and fun and the silver and gold detail was killer!
Adorable Reese Witherspoon gets if right more often than not, and last night's getup was spot on. Loved the canary yellow shade of this Atelier Versace gown, choker, and sideswept bangs. Elegant but relaxed.
Naomie Harrison - This Armani Prive was absolutely stunning on her,
Loved the unique tone and texture of the dress and it fit like a glove!
I loved this whimsical and fun butterfly Monique Lhuillier gown on Drew Berrymore - It fits her free spirit personality
LOVED Annette Bening in this Art Deco Pamella Roland gown...
It

was simple, yet architecturally interesting...and the color was beautiful on her!
It was safe and predictable, making Amy Adams' Tom Ford choice somewhat boring, but I did love the modern neckline and smoky color against her fair skin, and the column gown silhouette was very figure-flattering on her.
Although her hair was a bit too 80s-slickback, her very interesting sequined dress-with-nod-to-pant-suit Jenny Packham gown was very chic on Kristen Bell...and the plunging neckline somehow worked on her without being distasteful.
Three Stallone daughters: Sistine, Scarlet, and Sophia (God bless their Mother for keeping these names straight!)
Loved the simple styles of these long black gowns. Tasteful, age appropriate, and elegant!
LOVE Connie Britton (and her hit show, Nashville), and although I did not love all the purple-y shades in the detail of this dress, I applaud that this designer showed some restraint in the bottom part of the dress, given all the detail up top...Also, very pretty color and silhouette on her...
I saw this on more 'worst-dressed' lists, but I loved Carrie Underwood's candy-pink Iris Serban gown with tons of ruffles...You have to see those ruffles up close...amazing detail!
It was girly and fun, fitting to her personality...
I actually liked her Csarite dress more during her live interview...
Nevertheless, the color was so beautiful on Angela Bassett and my favorite cold-shoulder style of the evening
These gowns have SOME potential, IF ONLY...
I am majorly obbsessed with Mandy Moore's new show, This is Us...BUT, although I love the simple lines of this Naeem Khan dress, the neckline and cape combo did not seem to reside in harmony here (for me!)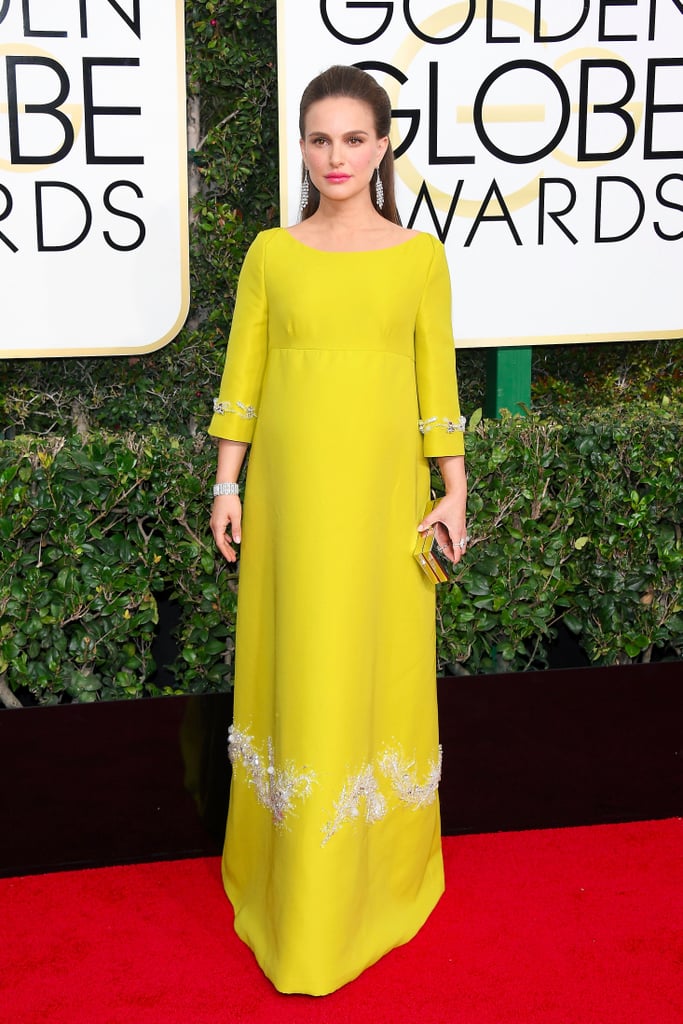 My IG feed was blowing up with RAVE reviews of Natalie Portman in this Prada gown on Sun night...
Although I loved the bold, cheerful color and vintage throwback to Jackie O, it was all a bit too matronly for me.
Loved the simplicity of Sienna Miller's Michael Kors gown, but something was off here...
Though I love a good pearl necklace in the right setting, the pearl jewelry didn't seem right with this dress.
Loved the sweet, dainty, feminine beaded detail in this Valentino gown, but the overall color washed out beautiful Emma Stone...
Also, the strange choker was not right with this gown.
I LOVED the top part of Lily Collins' Zuhair Murad Couture gown...the pale pink color was so pretty with her skin tone, high bun, and bold red lip, and this gown could have been amazing had the designer STOPPED RIGHT AT THE WAIST WITH A SIMPLE SKIRT....but the top AND skirt detail was just WAY too much...
I loved the metallic color and top part of Chrissy Teigen's Marchesa lace gown, but the oversized peplum throws it all off for me...If the top was paired with a simple skirt, this would have been stunning on her!
Loved the overall silhouette of Ruth Negga's Louis Vuitton gown with modern details,
but the full zipper was perhaps TOO modern/scuba for me...
Caitriona Balfe - loved the architectural detail and complementary colors of this Delpozo dress....
It just did not seem very figure flattering, (has more of a drapery effect) so perhaps a fold or two tweak?
This BOLD yellow Michael Kors gown was a showstopper on Viola Davis,
but the color is almost TOO blindingly bright. Yet, overall I loved this style and color on her!
These colors were beautiful on Zoe Saldana, I just think the Gucci designer had one too many cups of coffee on the day of inception....The top OR bottom would be pretty with a more simplified, streamlined other half...
The color and concept of this gorgeous beaded Ralph Lauren gown looked beautiful on Priyanka Chopra, but the ill-fitting bustline was distracting...I'm OK with tasteful plunging necklines, but in this case, it just cheapens the look...


Any way you look at these, they are completely WRONG!
This was the first gown I saw of the night...I could cry in my beer over SJP bad everything here...
(With all due respect to Vera Wang)
Love her, but it's just bad, all bad....She did, however, nail her "subliminal nod to Carrie Fisher"
Blake Lively who almost never disappoints fashion-wise, must have had a bad case of 'Mom-Brain' when choosing this Atelier Versace gown...it should have been a red flag when she felt compelled to awkwardly tuck her fingers into her pockets when posing...
Again, usually on the best-dressed list, Jessica Biel was out to lunch the day this Elie Saab was picked for her (with all due respect, i usually LOVE this designer) because she could NOT have chosen this herself...
I can't even begin to describe what I am seeing here...
This Edition by George Chakra gown seems to be a throw-back to the VERY bad 80's interior design of Julia Louis-Dryfus' character's house in the movie, Christmas Vacation "AND WHY IS THE FLOOR WET TODD? I DON'T KNOW MARGOT!!!!"
Someone (Gucci?) went 'Rogue One' on Felicty Jones in a bad way here...enough said.
Kerry Washington almost ALWAYS gets it right! Not sure what happened here with this Dolce & Gabbana...it was like a bad episode of Project Runway-meets an attempt to reupholster grandma's polyester sofa
ENOUGH is ENOUGH with the unattached-but-attached sleeves trend!
This Alexander McQueen gown had a little potential without the weird sleeves...And, did her hair stylist quit mid-updo?
Both Busy Phillips and Michelle Williams are darling...but these dress choices? Not so much...
This gown is ALL KINDS OF WRONG on the usually-better-dressed Jessica Chastain...
I love Heidi Klum, but this J. Mendel dress looked like she got attacked by a dog,
who ripped off part of the dress on the way to the red carpet...
I will NEVER, I repeat NEVER understand how stars as darling as Anna Hendrick get out the door without a stylist, friend, sister, Mom, (even a clueless husband or dog!!) informing them that the FIT is all wrong. There are bad dresses, and bad-fitting dresses, and such an ill-fitted dress as this Vionnet one is even worse. Perhaps it is just a bad illusion, but still!!
All I can think of for Keri Russell and this J. Mendel leopard gown is bad Jane Fonda...that's all!
Janelle Monae in Armani Prive - Its like a black-and-white version of that iconic Playschool push-lawnmower-popper toy babies love!
Lets face it: Sophia Vergara is beyond-human level of gorgeousness (and hilarious in her Modern Family role), BUT, this Zuhair Murad is just TOO MUCH flaunting here...
Olivia Culpo is stunningly beautiful, but this Zuhair Murad dress made me second-guess whether
I was at an art museum or on my couch watching the GG
What were your favorites? Now, I need to see some of the nominated movies!! Happy Awards Season as we approach the Oscars!